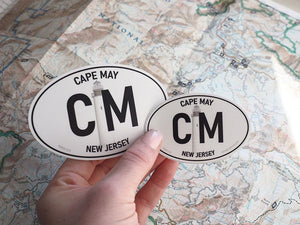 NEW: Cape May NJ Stickers & Jersey Shore Stickers Now Available!
New in the Sentinel Supply store: Jersey shore stickers and Cape May NJ stickers! There's nothing better than a day down the shore hunting Cape May diamonds at Sunset Beach, climbing the lighthouse, relaxing by the ocean, and then maybe heading to the Wildwood boardwalk for a fun evening by the water. Our new die-cut vinyl Cape May NJ stickers are inspired by 1920s vintage travel posters. Perfect waterproof decals for your Hydroflask, laptop, or beach cooler. Check out our new Cape May Lighthouse sticker, as well as a new Cape May NJ white oval bumper sticker. 
We've also added a brand new collection filled with East Coast and Jersey shore inspired sticker designs. Whether you're a Jersey shore visitor, Philadelphia tourist, or an East coast native, you have a soft spot in your heart for these mid-Atlantic states with a lot of attitude. Show your local pride with a sticker! Our Maryland crab bumper stickers, Philly skyline decals, and New Jersey stickers make the perfect souvenir. 
SHOP THE EAST COAST & NJ STICKER COLLECTION
---